Hello and thank you for joining BreastfeedingQuest.com. I hope you and your little one are ready for the fall and all the fun it brings along!
In this issue...
I Never Knew These 11 Facts About Babywearing Before, Did You?
Steal Deal of the Month: Get a FREE sling!
New Articles on the Website
Product Review: Simplicity Hands Free Pumping Bra Kit - Your Great Little Helper!
Questions and Comments

Why Babywearing?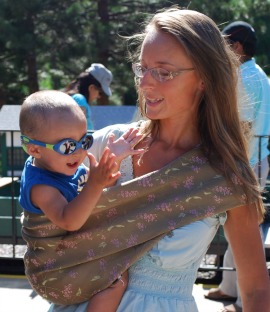 A little bit ago I came across Dr Sears' research on slings and babywearing. What I found out made me rave about it and now I can't wait to share with you!

Slings' functionality and usefulness amaze me, but so does the fact that we've strayed away so much from intuitive babywearing into the world of rocking and vibrating battery-operated baby-soothing machines.

Luckily, once-abandoned babywearing is making a comeback in a form of slings, wraps and carriers.

In essence, babywearing is about carrying a baby around. Slings and carriers help parents combine "wearing" babies with fulfilling daily duties.

I will make a suggestion of my favorite sling further down. What I want to concentrate on now are the benefits of "wearing" a baby. There are plenty of them, so let's dive right in!


What's In It For The Baby?
Babies who are carried most of the time are overall more content and calm

And that is not because they get used to being carried. In fact, babies in the Western culture are only picked up and carried when necessity arises, which is when they start demanding attention.

Therefore, babies fuss a lot. They learn that this is their only chance to be picked up and comforted.

In most developing countries, babies have to "ask" to be put down. And when that happens, they are thrilled to discover and cruise around.

Babies have a natural desire to explore on their own. But all they need during their earliest weeks of life is the smell and heartbeat of their mothers. No need to teach them independence just yet. All the myths about making babies clingy and preventing them from learning how to sooth themselves are just that - myths.

Think about it: we – the mothers – are reasoning and understanding adults with life experience and even we get depressed after giving birth. Having a baby is quite a change for us physically, mentally and emotionally.

Is being born any easier? Think of THEM…. The little ones who never tried living, seeing, touching and smelling anything outside of the womb. Don't they have the right to feel depressed? And still many doctors tell us to leave them crying and not to hold them unless necessary? Who defines that necessity?

In our family we carried, cuddled, touched, rocked and caressed all we could… Our baby was content, slept well, breastfed willingly and grew into an independent, loving and joyful toddler.


Babywearing promotes optimal physiological development

During pregnancy your body and womb take care of everything that the baby needs. After birth the baby starts functioning on his own.

Proper timely stimulation and support speed up baby's adaptation to the outside world and promote proper development.

While in the womb your baby learns to recognize your rhythms, sounds, breathing and heartbeat. After birth by carrying your baby, you surround him with familiar smells and sounds and give reassurance that nothing has changed. You save your baby time and energy for developing and growing rather than fussing and searching for comfort.


Babywearing promotes intellectual development of the baby

Sling-carried babies are generally more content. Their energy and attention is all concentrated on taking in what's going on around them. They are more open to exploring and "analyzing" the surroundings.

They demonstrate better aptitude for visual and auditory learning. Their normal physiological development and absence of reasons to fuss, cry and be anxious promote optimal brain function, which in its turn promotes learning.

Whether a mother wears a baby facing forward, or on her side (when cooking or handling dangerous household objects), the baby is held at mom's level. He sees what the mother sees, watches mom's hands move, tracks sounds back to the objects that produce them, notices mom's reactions, eye movements, changes in her voice… The baby learns.

Young kids are tactile learners – they learn by touching, feeling and experiencing. Therefore, babies who are often left on their own only learn things in their immediate surroundings: the mobile moving, the music coming out of nowhere...

They also know that there is something else outside of their reach – faraway voices, smells and images – which they have no relation to and, therefore, no interest in. This discourages them from learning.

Baby's brain has an immense potential. By carrying a baby, a mother gives him an opportunity to take part and to learn. Constant change of scenery, activities and surrounding objects and sounds provides positive stimulation and equips babies with knowledge and experience that they store in their brain to further reproduce in similar situations.


Babywearing prevents colic, sleep disturbances and finger sucking

According to Dr Sears, babies are born striving for adjustment to their new surroundings. If mothers leave their babies on their own most of the time, babies feel insecure and start demonstrating nervousness and anxiety, inconsolable crying, finger sucking, sleep and breathing disturbances.

Such babies have to spend their energy trying to sooth themselves, rather than develop and grow.


Babywearing reduces colic

Colic, defined as inconsolable excessive crying for prolonged periods of time, is associated with feelings of anxiety and insecurity.

Research shows that in countries where babywearing is a normal daily activity, babies cry less and are less prone to colic. In addition to emotional reasons discussed previously, babywearing positively affects baby's vestibular system. Rocking movements remind babies of rhythmical movements inside the womb.

Also, one of the remedies for colic is swaddling. Babies love feeling snug, which mimics how they felt in the womb. It also helps keep their hands and legs in place, as they can't control them yet.

Babywearing does the same thing and, in addition, it keeps mommy close. Therefore, even the most colicky baby tends to calm down when carried in a sling.


Babywearing boosts baby's self-esteem

Opposite to the well-known misconception of creating clingy babies, babywearing actually does the opposite. It reproduces baby's surroundings in the womb, which tells him that everything is well and safe.

The baby is being smoothly transitioned from the womb into the outside world. And as long as mommy is close during this transition, the baby feels calm, assured and valued, which boosts his self-esteem.


Babywearing stimulates speech development

A mother who "wears" her baby a lot involves him into interaction and conversation more often. This promotes baby's early speech development.

Sounds can have different effects on babies, depending on what role the baby plays in their production. Unexpected sounds can have a startling and scaring effect, which is void of any learning value by default.

When wearing her baby, a mother has an opportunity to explain and predict most of the sounds, which provides positive stimulation to the baby and promotes imitation and speech development.




Why Parents Love Babywearing



Babywearing helps parents form attachment

A parent is predisposed to be attached to his/her baby. Mother's predisposition is usually the strongest and is explained by post-delivery hormonal changes.

However, it is not uncommon to hear a mother say that it took her some time to fall in love with her baby. This is the time it took her body to build up prolactin and oxytocin, the attachment hormones.

Babywearing maximizes the amount of time a mother spends keeping her baby close, which promotes production of attachment hormones, which in its turn strengthens the relationship between mother and baby.


Babywearing prevents baby blues

Research shows that baby blues happen more often in mothers who don't wear their babies.

There are two possible reasons for that. First is the positive hormonal stimulation that continued babywearing provides, as discussed in the previous paragraph.

Secondly, "wearing" a baby helps a mother better learn his cues and instantaneously meet his needs. As a result, the baby is more content and happy. The mother feels confident and rarely questions her ability to take care of the baby, which creates the feeling of harmony, decreases anxiety and prevents depression.


Babywearing promotes successful breastfeeding

Babywearing gives babies easy access to breasts. With some practice a mother can excel breastfeeding on-the-go and be able to nurse while shopping or running errands.

Wearing a baby in a sling creates perfect conditions for breastfeeding on demand. Good demand stimulates production and increases supply.

Babywearing eases discreet breastfeeding. Slings are very versatile and designed to accommodate nursing a baby without having to take him out. Some babies even nurse better when in motion.

At the same time, babywearing boosts production of milk-making and milk-releasing hormones in mothers. So the milk is always there, when the baby needs it.


Babywearing is good for dads

Babywearing presents a unique opportunity for fathers to bond with their little ones. Taking into consideration that babies, especially breastfed ones, are naturally more attached to their mothers, sling-wearing gives dads a great opportunity to get their share of attention and love.

Newborns are very sensitive to vibration of their skull bones. Dr.Sears says that when carried by their dads, babies feel the vibration that their deeper slower voices produce, calm down and fall asleep faster.

From our personal experience, babies sleep well on their dads' chests. It might be the combination of warm breath, soft hairy skin, and the feeling of something steady, strong and big underneath them. Mom's subtle chest with full lactating breasts can hardly compete with that!



Steal Deal of the Month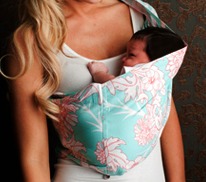 Enjoy this BQ exclusive deal!

Use code 186C9B at checkout and get a FREE Seven Slings sling! All you pay for is shipping.

While all types of carriers fulfill their babywearing function well enough, slings are the most flexible ones and provide the most complete skin-to-skin contact.

Seven Slings are secure, reliable and easy in care. Made 97% of cotton and designed to fit babies up to 35lbs.

Seven Slings come in a variety of chic colors and 9 different sizes, so you can be sure it will fit. The website offers detailed sizing and safety instructions.

You can even order an embroidery for your sling. It costs additional $6.95, but considering the sling itself is free, that is a very good deal. And what a great gift idea for someone you know!

To take advantage of this offer, go to Seven Slings, pick the design you like, enter code 186C9B at checkout and enjoy the beauty of babywearing!



New Articles on the Website:
Simplicity Hands Free Pumping Bra Kit Review
How to Use Simplicity Hands Free Pumping Bra Kit
NuuNest App Review

Related Product Review: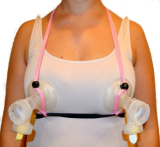 The product I recently tested and reviewed changed what I disliked the most about pumping - holding breast pump shields in place all the time while pumping.

Simplicity Hands Free Pumping Bra Kit does that for me. It felt super good to have my hands free during pumping and to use them for something different, like eating, reading or even typing!

Adjustable, comfortable, secure and lightweight, it is a great little helper for every pumping mom.

What's even more - it brings along a handful of benefits:
it promotes complete breast emptying, preventing breast infections and decrease in milk supply
it helps extract hindmilk, so important for newborns
it saves tons of time
it saves money you would otherwise spend on pumping bras

It sells at only $12.99 at Amazon right now and the shipping is FREE! Use the link below to order.



Order Now

Questions and Comments:


I try to organize my newsletters around your interests in breastfeeding or concerns that you may have.

If you have an interest in a specific breastfeeding topic or would like me to review a particular breastfeeding-related product, let me know here. I will research, review and share with you. You can also submit questions and comments by responding to this newsletter.

Feel free to forward this newsletter to other moms. The more, the merrier!


There are many ways to show your love and devotion to your kids and to win their trust. Breastfeeding is the most natural one.

Yours,





from BreastfeedingQuest.com