San Diego Bebe® Eco-Nursing Pillow

 $59.99      

 In Stock

ships from the manufacturer
change quantity in the cart
Double Blessings San Diego Bebe Single Deluxe Nursing Pillow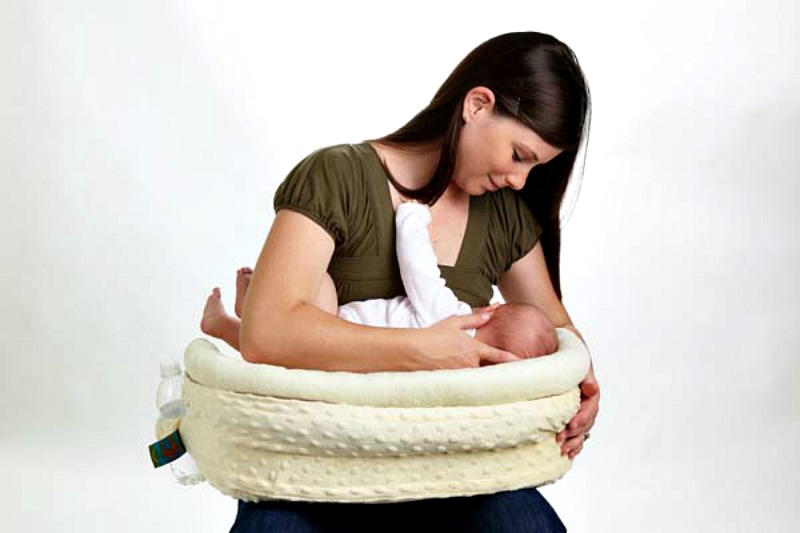 $59.99  
    In Stock
ships from the manufacturer
change quantity in the cart

Product Description:

Eco-friendly nursing pillow with privacy cover (waterproof blue pillow does not include privacy cover). Non-flammable fiber inside. Not treated with chemicals.
Unlike some other nursing pillows, Double Blessings San Diego Bebe Single Deluxe Pillow design allows to breastfeed in football, cradle or cross-cradle positions. Comes with a complete perimeter Comfort Bolster attached (except for waterproof blue pillow).

Benefits:

     ● Healthy, hypo-allergenic, non-toxic choice pillow: no fire-retardant chemicals, no lead (no zippers), no glue, no foam, no phthalate, no odor.
     ● Easy to wash and clean: all covers are detachable, machine wash-and-dry, dry up fast, wrinkle-free.
     ● Waterproof cover available to help with spit-ups and leakages.
     ● Organic cover available for green mamas.
     ● Correct baby positioning: angled surface positions baby's head and body tilted towards breast promoting good latch, swallow, and security when on the pillow.
     ● Secure baby positioning: Comfort Bolster that goes around the front of the pillow and its sides helps keep the baby steady and secure on the pillow. Waterproof blue pillow does not include Comfort Bolster.
     ● Fits larger size moms and babies: adjustable waist strap adjusts up to 52in-56in.
     ● Detachable privacy cover allows for nursing privately in public. Waterproof blue pillow does not include privacy cover.

     ● Detachable back support can be placed anywhere behind your back where support is needed helping relieve back, shoulder and neck strain. When back support pillow is detached, main pillow can be used to support a baby in a sitting position.
     ● 3 pockets for placing a bottle of water, a cell phone or anything else you may want.
     ● Thoroughly tested and CPSIA-certified.
Features:
       ● Non-flammable Eco-Loft Fiber inside
     ● All Velcro fasteners, no zippers
     ● Dimensions: W20in/D17.5in/H7.25in (with Comfort Bolster) or H5.25in (without Comfort Bolster) or W51cm/D44.5cm/H18cm or H13cm

     ● Weight: 2.9lb
     ● Recyclable

     ● Chic fabric colors
     ● All parts are detachable, all covers are removable
     ● Comes in a clear zippered travel bag

Blue Waterproof Pillow has a denier polyester cover widely used in textile due to its superb durability and waterproof quality!

Double Blessings' Patented Features:
Double Blessings' Patented Features:

Privacy Cover™ - Built-in, detachable nursing cover-up is made of lightweight mesh for airflow and discretion.
Angled Surface - Positions baby towards mother, encouraging proper positioning, latch, suckle and swallow.
Comfort Bolster™ - Provides added comfort and security. 
Detachable Back Pillow – Placement anywhere along mother's spine for optimum posture and comfort.
Adjustable Fit - Waist strap with Quiet-Squeeze buckle fits up to 52" waist, securing pillow to mom.
Pillow Awards:

The Australian Toy Industry's 2012 NURSERY PRODUCT OF THE YEAR
Parent-Test, Parent-Approved Media Award (PTPA)
Creative Child's Top Choice of the Year Award
The National Parenting Center Seal of Approval
Top Gear of the Year Award
Mom's Choice Award
Baby & Children's Product News Reader's Favorite
Mom's Best Award Winner
Cribsie Award Finalist
Best & Hottest Products

Home ›
BF Pillows
› Double Blessings San Diego Bebe Single Deluxe Pillow
---
What's Your San Diego Bebe Single Pillow Experience?
When did you use this pillow? How did you like it? How long have you used it for? What's the top one thing you liked about it? Have a picture or two to add to your story? Do share!
---
Like This Page?

comments powered by
---
---