Mommy Breastfeeds My Baby Brother/ Mamá Amamanta A Mi Hermanito



$12.99

 In Stock

ISBN: 978-0-9816538-0-8

by MARK REPKIN

no international shipping
change quantity in the cart



Mommy Breastfeeds My Baby Brother/ Mamá Amamanta A Mi Hermanito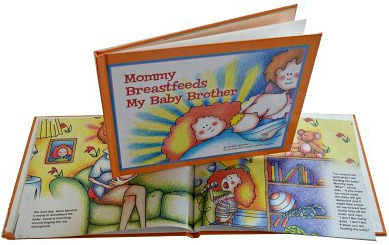 $12.99
 In Stock
ISBN: 978-0-9816538-0-8

by MARK REPKIN

no international shipping
change quantity in the cart
Product Description:

Mommy Breastfeeds My Baby Brother is an educational and entertaining book that explains in simple words, colorful illustrations and real-life situations the importance of nursing a baby.
As Jenna welcomes her baby brother Spencer into the family, she comes to realize that mommy has to spend a lot of time with the new baby and feed him her special milk. The book offers a number of techniques in form of real-life situations on how to teach a toddler help create a breastfeeding-friendly environment and assist parents with the new baby.
The book is geared towards all families having a new baby and looking for ways to simplify the adjustment process for their older kids (age 2-6).

Benefits:
     ● Every technique in the book is presented in real-life example and is explained in simple words for kids to understand

     ● The book uses concepts of "breast", "booby", "breastfeeding" in age-appropriate manner easy to understand for a toddler/preschooler
     ● It teaches older kids what to do and not to do at baby's feeding times


     ● The book uses colorful engaging illustrations that depict real-life situations.


     ● It talks about a great practical technique called "Feeding Time Toys".

     ● The book has thick glossy pages that are easy to flip through.

     ● Bilingual version available. Softcover version has English and Spanish text on every page.

     ● Makes a great baby shower gift or a gift for the older sibling that you can bring to the hospital when new baby arrives.
Features:
     ● Very light, easy to take with you

     ● 24 durable glossy pages 

     ● Bilingual version available: hardcover book has English only; softcover has both English and Spanish text on every page

     ● Colorful illustrations 
Review:
Aside from all the great features and benefits listed above, Mommy Breastfeeds My Baby Brother is a must-have for every family with older kids preparing for the arrival of a new baby, because:

The book can be used in two ways:
                       1. The book is a handy tutorial for parents, as it describes how to turn a toddler into a proud pro-nursing and pro-baby helper.
Even being the only child in the family, a toddler can be very demanding… Always fighting for your undivided attention, always striving to show what they are capable of, always in need of feeling important.
Arrival of a new baby can make it all ten times worse, not to mention frequent nursing sessions. It could all turn the household into a constant battle field.
Mommy Breastfeeds My Baby Brother equips a parent with great techniques that really work. Jenna (the older sibling) goes all the way from "I don't like it when you are feeding the baby" to  "I like when mommy feeds him".
                        2. The book is great for reading with your older child.
I've noticed multiple times, that my son reacts best to illustrations that depict real life, something that he sees every day, rather than fairy-tale images.
This book has illustrations of the baby, the toddler, the act of breastfeeding and everything else that a toddler in this situation would see in the house.
By looking at these pictures your older child subconsciously sees commonalities and feels re-assured that he/she is not the only one in such situation. Naturally, most kids will try to do if not a better job, then at least same great job as Jenna did being an older sister and a big helper!
The book depicts the process of nursing as something very natural. It doesn't make a big deal out of it, at least not in the eyes of a toddler. It shows it as just another routine, same as brushing teeth or taking a bath. I think it helps create a healthy nursing environment at home.
One great technique that the book talks about is the introduction of Feeding Time Toys. By introducing new toys that the toddler can play with ONLY when mommy feeds the baby, you turn feeding times from something the toddler dreads into something they are looking forward to. 
No need to always buy new toys. Rotate the old ones. Hide several old toys for a week or two and then reintroduce them as the Feeding Time Toys. They will be as good as new!
I like that the book is available in Spanish too. The hardcover version is English only. Softcover book has both English and Spanish text on every page.
Both hard- and softcover books have thick glossy pages and colorful illustrations.
Mommy Breastfeeds My Baby Brother is very easy to read. You can even re-word and adapt the book to your situation as needed.
Testimonials:
"We've come a long way with appreciating the importance of breastfeeding. Parents want to know how to introduce these concepts to older siblings, and "Mommy Breastfeeds My Baby Brother" provides ideas that worked…"    
- Marian Tompson, co-founder of La Leche League International
"This delightful book is a great addition to a child's library. The author does a wonderful job assisting siblings in an age-appropriate understanding of breastfeeding as well as guiding the adjustment to her new sibling role. This book fills a need which has long been unmet for parents. I look forward to recommending it to families in my practice."                               
- Dr. Susan Sirota, private practitioner and pediatric instructor at Northwestern University Medical School
"I bought this as a gift for my five year old granddaughter, whose mommy is breastfeeding her 9 month old baby brother. She loved it (she could especially relate to the red-headed little girl, because she is red-headed, too)! She had me read it to her repeatedly, and she also read it to herself..."
- Amazon Reader's Review

"I am expecting my second child in August and have found this to be a great book! Not only does my son love to sit down and read it, I feel that it is helping him prepare for what is to come."
- Mom

"While this is good for my son, it has given me some great ideas on how to handle a toddler and a breast feeding newborn at the same time. We plan to incorporate some of these..."
- Mom
"The images are cute, bright and interesting for young readers and I also love the easy terminology used."
- Mom

"All-in-all a great book that I would buy for any breast feeding mommy!"
- Mom

Store ›
Books & Apps
› Mommy Breastfeeds My Baby Brother
---
How Did You Like "Mommy Breastfeeds My Baby Brother"?
What do you think of the book? Did you read it with your toddler? Did she/he love it? Have a picture of your child with the book? Can't wait to see! Do share!
---
Like This Page?

comments powered by
---
---