Employer Support to Working and Breastfeeding Mothers

Every year more and more companies go pro-breastfeeding and provide employer support to working and breastfeeding mothers.
They introduce flexible breaks for milk expression, conveniently-located facilities for pumping and storing breast milk; promote peer support and invest in educating their employees about the benefits of breastfeeding.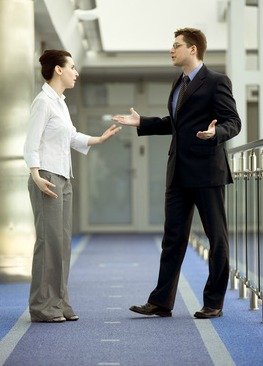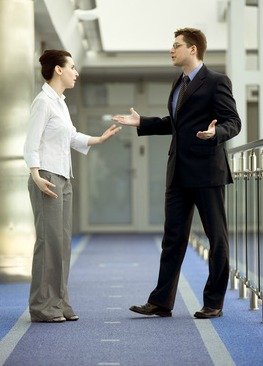 If your company isn't one of them, it may just be because no one inquired about a lactation support program. Don't be shy or ashamed to ask. It is your right.

Chances are your HR department is very well aware of the legislature and ready to act upon it when requested. If so, you are not alone. Look for other pregnant women even before going on a maternity leave, exchange contact information with them, work out a plan, and talk to your company human resources department.
By creating a breastfeeding-friendly work environment, employers help create a healthier, more loyal, and more productive workforce.
But if your HR or your boss is reluctant to take on a breastfeeding-friendly attitude, here is the information you can use to make your case.
Why Should Your Company Care?

 ♦ Employment laws

There are federal and state laws that protect the rights of mothers to combine working and breastfeeding.
♦ Lower health care costs
Breastfed children are sick less often due to protective qualities of breast milk. This decreases the number of doctor visits and prescriptions needed. Besides, breastfeeding has lots of health benefits for moms too, so women in the workplace are generally healthier.
♦ Lower absenteeism
As lactation improves overall health of the child and the mother, mothers take less sick and unpaid time off.
Good to Know: One-day absences to care for sick children occur more than twice as often for mothers of formula-feeding infants.¹
♦ Decreased cost of health insurance²
General improvement in the health of the child and the mother leads to lower medical bills and over time to a decrease in the general cost of health insurance.
♦ Recruitment incentive for women
As competition for the quality workforce becomes intense, leading companies in the industry start investing more into the development of employee and family support services to attract prospects. 
Young female specialists are more likely to look favorably at the companies with lactation support program in place.
♦ Improved loyalty, morale, productivity and employee satisfaction
Figuring out how to combine work and pumping can be a huge stress for new moms.
Companies with a good lactation room in place and flexible break time policy take some of this stress off the shoulders of their female workers. Such companies enjoy improved loyalty and morale of their workers. Their employees are also more concentrated on work and more productive.
♦ Better employee retention and lower turnover
Female employees are more eager to return to a family-friendly workplace.
Knowing that they can continue delivering breast milk to their babies even when they return to work and do so in a comfort of a private and cozy lactation room makes them more likely to come back.
It can also encourage them to return from a maternity leave earlier than expected, which is a nice incentive for the company.

Important: Cutting maternity leave short is not recommended in terms of milk supply and overall breastfeeding success.
♦ Positive public image
Companies can use their lactation support program to gain competitive edge and create goodwill.
Nowadays, quality employees follow environment-friendly and family-oriented companies with high degree of loyalty and dedication.
What to Say to Your Employer

When asking your company for employer support to working and breastfeeding mothers, stay positive, friendly and polite. No need to throw legislature at them just yet. You need them as your support group, not the other way around.
Most companies are happy to help, if you ask for it and tell them exactly what you need. Do not assume that they know, even if you talk to a woman.
Be ready to explain the benefits of breastfeeding for you and your baby, why you need to pump 2-3 times during the work day, and what you need in terms of supplies and lactation room equipment.

US Breastfeeding Committee put together a list of possible scenarios that you may find handy when talking to your HR and your boss. If shouldn't even come to this, but if it does, here is what they suggest you say.³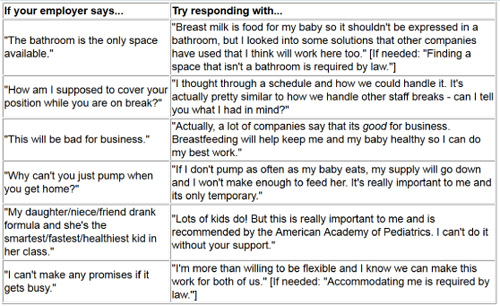 ---
¹ Source: Cohen R, Mrtek MB, Mrtek RG. Comparison of maternal absenteeism and infant illness rates among breastfeeding and formula-feeding women in two corporations. American Journal of Health Promotion.
² Source: Breastfeeding Promotion Resource Kit. Colorado Department of Labor and Employment.
³ Source: US Breastfeeding Committee. How should you talk to your employer about nursing breaks?
Breastfeed Happier Today!

Never miss a thing from Breastfeeding Quest! This free newsletter will keep you up-to-date with new articles on our website and deliver special offers, discount codes and product reviews straight to your Inbox.

Subscribe Now!
Home ›
Breastfeeding and Work
› Employer Support
---
Like This Page?

comments powered by
---
---