Breastfeeding in Public - Every Mom's Pain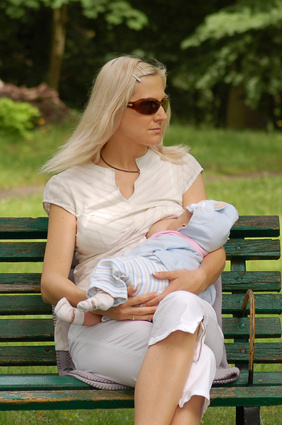 Breastfeeding in public has stirred a lot of controversy in recent years. Viewed as a natural bodily process by the Eastern part of the world, it is still mostly a deviation from the norm here in the US. Read about breastfeeding laws in the US and other countries.

The benefits of breast milk and their predominance over a man-made formula are out of question. It is the process of extracting milk from the breast that fuels the debates.
Women's breasts have always had a double meaning: one is pure and life-asserting - a means of nourishing a baby; the other is sexual. It is, however, different in every culture how much weight is put on each of these meanings.
Western world presents a curious case of paradox in terms of public nursing. It most definitely lacks the culture of acknowledging the breasts' natural, divine and clean image.
We in the US are leading the world in many areas of life, progressive way of thinking has long been a norm here; but somehow we struggle to alter our conservative views on mothers nursing their babies.   
The Effect of Public Nursing Aversion on Breastfeeding

Many women's decisions to wean their babies prematurely are conditioned by the fact that they need to go back to work, or be out and about a lot. They don't have any hope that they can manage it and breastfeed. So they have to give up what many cultures consider unheard of to avoid inconveniences, people staring and unpleasant remarks.
This also makes feeding on demand impossible. Women who feel awkward about breastfeeding in public tend to prolong feeding intervals and nurse when they can rather than when the baby needs it.
A decision to breastfeed should be an individual decision of a mother. It should be based on personal convictions, common sense and the urge to give your baby the best. Thinking of the social and public constraints shouldn't be in the picture.
Public Nursing Reality

In fact, if you are brave and interested in fighting this fight, you'll find out that most people have a great interest and respect for a nursing mother. You'll be amazed at how little people know about breastfeeding. Such people need to be educated, not feared.
If you are not the shy type (again, there is no need to be), you don't have to cover up your baby with a cover or a towel. Your baby is eating! Think about it. Where and how are we usually eating?
Bathroom?
Toilet?
Under a cover?
With a blanket or a towel on our head?
In a car (oh, well, that may be – not a very fancy meal though)?
You and your baby are free and legally allowed to nurse in any public place where a mom with a baby are allowed to be. A normal breastfeeding session is NOT an indecent exposure. It is a beautiful art. Read more about how to make breastfeeding in public discreet and beautiful here. 

There may be remarks and looks thrown at you. But this is how the culture forms. Gay couples seen in public places were also frowned upon at first. They sustained the pressure and continued appearing in public. Gradually, the culture formed and now hardly anyone stares at a gay couple.
Breastfeeding community in the US has long ways to go to turn breastfeeding in public into a normal encounter. This way will be paved with resistance, repulsion and negativism, but will inevitably lead to breastfeeding awareness and acceptance.
For now, be reasonable about your breastfeeding in public, but remember that only you and your baby matter. If someone expresses their dislike or disgust of what you do, either ignore or tell them that it is your legal right to do so.
I've found that especially men get disarmed of their negative comments or remarks, if you ask them if they would want their babies to be bottle- or breastfed. It usually shifts everything around, when you put things into a different perspective for them.
Remember that breastfeeding effect on your baby's life and health stays much longer than a negative remark in your memory. Breastfeed wherever you are and feel proud of yourself.
And if public places want to keep us off their benches, armchairs, lounges, and dinner tables, they will start planning for nice and cozy feeding rooms...away from the toilet flushing…
Home
› Breastfeeding in Public
---
What Has Your Breastfeeding In Public Experience Been? Share Your Story!
Share your story about how you breastfed in a public place. What did you think about it? And do you have any tricks that made it more comfortable? We want to know!
What Other Visitors Have Shared
Click links below to read other moms' public breastfeeding stories...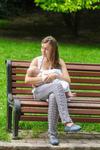 Breastfeeding Hubby

I was at a street food market in Singapore eating dinner when I decided to breastfeed my then 9 month-old son. A lady who shared our table saw what I was …
---
Like This Page?

---
---
comments powered by
---
---