Unbelievable Bonding
by Viktoriya
(Colorado, USA)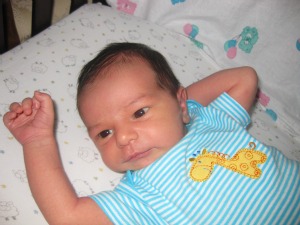 then...
My son is approaching his third birthday. Up to these days do I keep in my memory those sweet breastfeeding moments that were so rewarding and so cute!

Our breastfeeding story was extremely sad at times. My son was born tongue-tied. Later I discovered blood in his stool - a sign of allergies. He has also been a picky eater during the first year: nursing strikes, nipple confusion. I had sore and cracked nipples, drop in milk supply when I went back to work and started pumping and all the stress related to it.

Somehow we made it through the first year. And I am so very glad we did! I think I only started enjoying breastfeeding when my son was 13-14 months old. He nursed happily for another 2 months and those were the best two months in our breastfeeding journey.

He would latch on and raise his eyes to look right into mine. He would place his little hand on my breast a little above where his mouth was and hold it there until the feeding was over. There was so much peacefulness, satisfaction, and thankfulness in his little eyes, as if he was telling me: I know mommy, I've put you through a lot. But thank you for making it this far!

These moments were THE best. I know every child gives his/her mom moments of ultimate joy and happiness. But breastfeeding moments cannot be compared to anything. This little creature at my breast was so tiny, vulnerable and dependent on me and so meaningful and accomplished in his act. This is priceless. I am writing this to make these moments evergreen in my memory. Never ever do I wish to forget about the beautiful art of breastfeeding that my son and I once mastered!

Join in and write your own page! It's easy to do. How? Simply click here to return to Beautiful Breastfeeding Stories.
---
Like This Page?

comments powered by
---
---