Nursing Pillow For Twins And More

Nursing pillow for twins is one of the most invaluable twins breastfeeding accessories and it is well worth the investment. There are several brands to choose from. Further down you will find a list of twin pillows that I reviewed.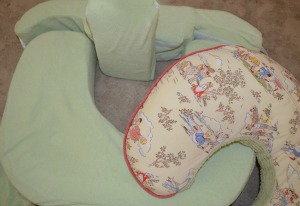 Breastfeeding twins and other multiples doesn't just physically take more time and energy to accomplish, it also "test-drives" your emotions to the fullest degree. Fortunately, there are ways to streamline and simplify the physical aspect to leave you more time and energy to cope with the emotional challenge. Here are some ideas:
Delegate household chores to other family members. Dishes, cleaning and laundry can be done by someone else. Nursing your twins is something only you can do.
Create a schedule of taking care of the babies between you and your partner. I know taking care of two or more babies takes "a village", so all four of your hands will always have something to do, but try to fit in some time when your spouse does something with the babies, while you nap, take a shower or eat, and vice versa.    
Learn about positioning twins for nursing even before the arrival of the babies. It is a good start and can save you time later. Be creative, but know the basics.
Get or add to your baby-shower gift list some must-haves for life with twins. These are some real time-savers and "hassle-eliminators":
Twin carrier
It is a carrier designed for carrying two babies simultaneously. A good carrier should give you the flexibility of carrying your babies on two sides of your body, as well as one at the front and one at the back. It should also be adjustable to fit moms and babies of different sizes. Read more here.
Nursing pillow for twins
A twin nursing pillow is a larger U-shaped pillow for simultaneous breastfeeding of two babies. Unlike single baby pillows, nursing pillow for twins has to have a strap with secure clip or latch that goes behind your back. With double the weight on it, it needs to be safely and securely fastened around your body.
Other things to look for in a double nursing pillow:
Shape A double nursing pillow should have slightly-elevated edges or angled top, which will keep one baby positioned securely, while you reach for the other one. It also helps support both babies on their sides with their tummies turned towards yours, which is a desired position for breastfeeding (not flat on their backs).
Attachable/detachable back support It is a little cushion included with the pillow that can be either placed behind your back when you nurse in a sitting position, or easily detached for cleaning. Detaching the back support pillow is also important for different height moms. You may need to move it up or down along your back.
Breastfeeding position Some pillows are designed so that you can breastfeed your twins in a football, as well as cradle or mixed position, others allow only the football hold.
What's inside?

Some time ago all nursing pillows were made of polyurethane foam, the one often used in sofas, bedding and truck seats. However, polyurethane foam is inflammable and requires special chemical treatment to be safe for use, especially when it comes to babies.
To avoid fire hazard and use of chemicals, some companies manufacturing baby products and supplies switched to using eco-friendly synthetic fiber instead. Synthetic fibers are flame resistant and do not require chemical additives. They are also resistant to insects and easy to wash and clean.
I reviewed several twin feeding pillows, all designed by moms with moms in mind. They all have something valuable to add to your positive experience of breastfeeding twins. Browse around and pick the one that best fits your situation and lifestyle:
My Brest Friend Twins Plus Pillow
Double Blessings San Diego Bebe Twin Pillow

There are many ways to show your love and devotion to your kids and to win their trust. Breastfeeding is the most natural one.
Yours,
Viktoriya
Back to top of Nursing Pillow For Twins>Breastfeeding Twins> Breastfeeding Home

---
Like This Page?

comments powered by
---
---